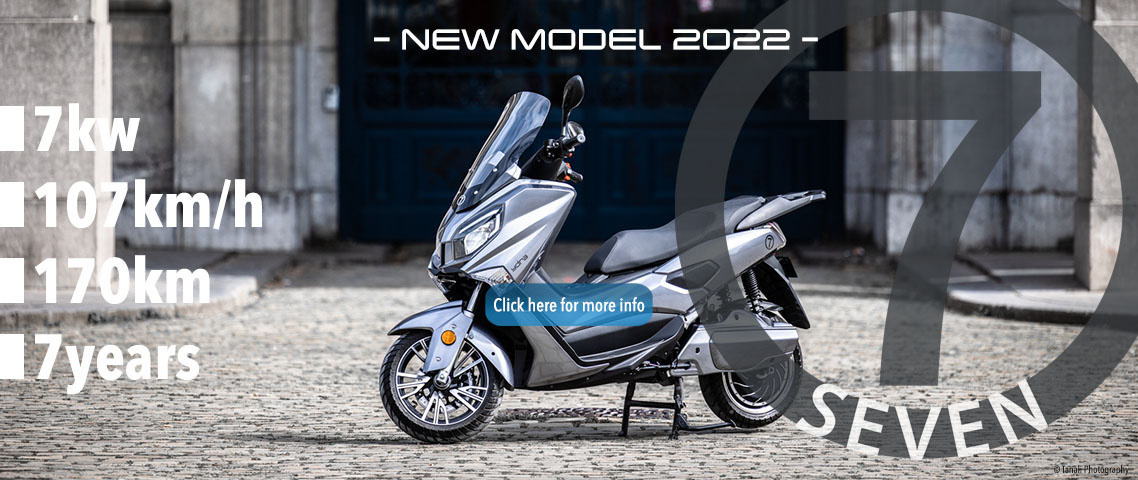 YDRA is a Belgian brand of Electric Vehicles.
Scooters and motorcycles including mopeds (class A and B) and 125cc equivalents. For both fun and work.


Freedom on 2 wheels
The YDRA Retro is like freedom on 2 wheels with a timeless and refined design. This ultra-silent scooter is fully electric and goes up to 45 KM/h (B class – the equivalent of 50cc). It's the ideal vehicle to go to work, go shopping or simply drive around on sunny days.
Passion and romantism are trademarks of the Retro DNA. The classic lines and the generous chromes are a feast for the eyes. It appeals to everyone and not only the nostalgic. Thanks to its 3Kw engine, the powerful lithium-ion battery and the LED in the tail lights and blinkers, you will drive untroubled. Electric and green.
Comfortable seating
Alone or with someone else, you will feel lighter when roaming the streets with your Retro. The 3KW engine and the powerful lithium-ion batteries guarantee a high acceleration. You will reach your cruising speed in no time. You will sit very comfortably thanks to a long and low seat.
The Retro is equipped with an external connector that allows you to charge the scooter directly on it. In addition, the lithium batteries can be removed and easily be charged at home or at work. It is up to you. A classic 230V outlet is enough. The Retro comes with a 23.4 Ah lithium battery. The autonomy is more or less 50 KM. You can fully charge it in 8h. You want to charge it faster? You can opt for the quick charger that will do the work in 4hours. Do you travel more than 50km a day? You have the possibility to install a second battery (sold separately). You will then double the autonomy and drive 100km with a single charge.
A stylish baggage rack
Personalize your Retro with for example a chromed baggage rack (optional) in the front and/or in the back. It is not only handy, it also adds another touch of style to your scooter. Do you wish a closed storage to protect your belongings when it rains? You can plug a matched top case at the back of your Retro (sold separately).
You can drive the Retro with a AM or B driving licence.
Price: € 2.995,-


Power beast on the road
Are you the leader of the pack? Then bite off with the YDRA Wolf. A muscular motorcycle that shows its teeth. Including flawless and powerful design. Stealth, speed and power. That is what you experience on this 5 kW motor, which will take you to your destination. At best, you can reach 100 km / h with the Wolf. The Wolf is designed for tough twinks and chicks who like to rip the track without harming the environment. Because this Wolf is a green boy. He doesn't eat gasoline. Then what? 100 percent electricity! You will never hear the Wolf howling, either. Thanks to its electric motor, you can drive almost silently on the road.Do you want a lean, mean riding machine? One that performs solidly without roaring the neighbors? That looks sleek yet affordable? And that do not emit greenhouse gases? Then the YDRA Wolf is your perfect match.
Drivers license: you need an A1 driving license for the Wolf.
To read (in french): article published in Moto Trends (number 86, april 2021)
Price: € 5.495,-

An efficient and well thought 100% electric maxi-scooter for all your trips. The YDRA Switch respects all the codes of its category while adding a strong design and an innovating electric motorisation.
Its 6.000W engine is located in the middle and propel the back wheel via a strap (that does not need tuning or maintenance). The top speed of the Switch comes close to the 120km/h. The controller allows 3 driving modes (eco, normal or sport) and includes a regenerative break. Its impressive autonomy (up to 130 km) is perfect for the daily needs of most bikers. On top of that, you can load it easily and rapidly on any standard 220V outlet. A complete load requires less than 5 hours thanks to the quick charger included as standard.
The combined braking system, the controller display and the big wheels (with large tyres at the back) are also supplied as standard and adds stability and safety to the silent driving pleasure.
Price: € 6.495,-
Ydra in the news:

Also discover our other vehicles :