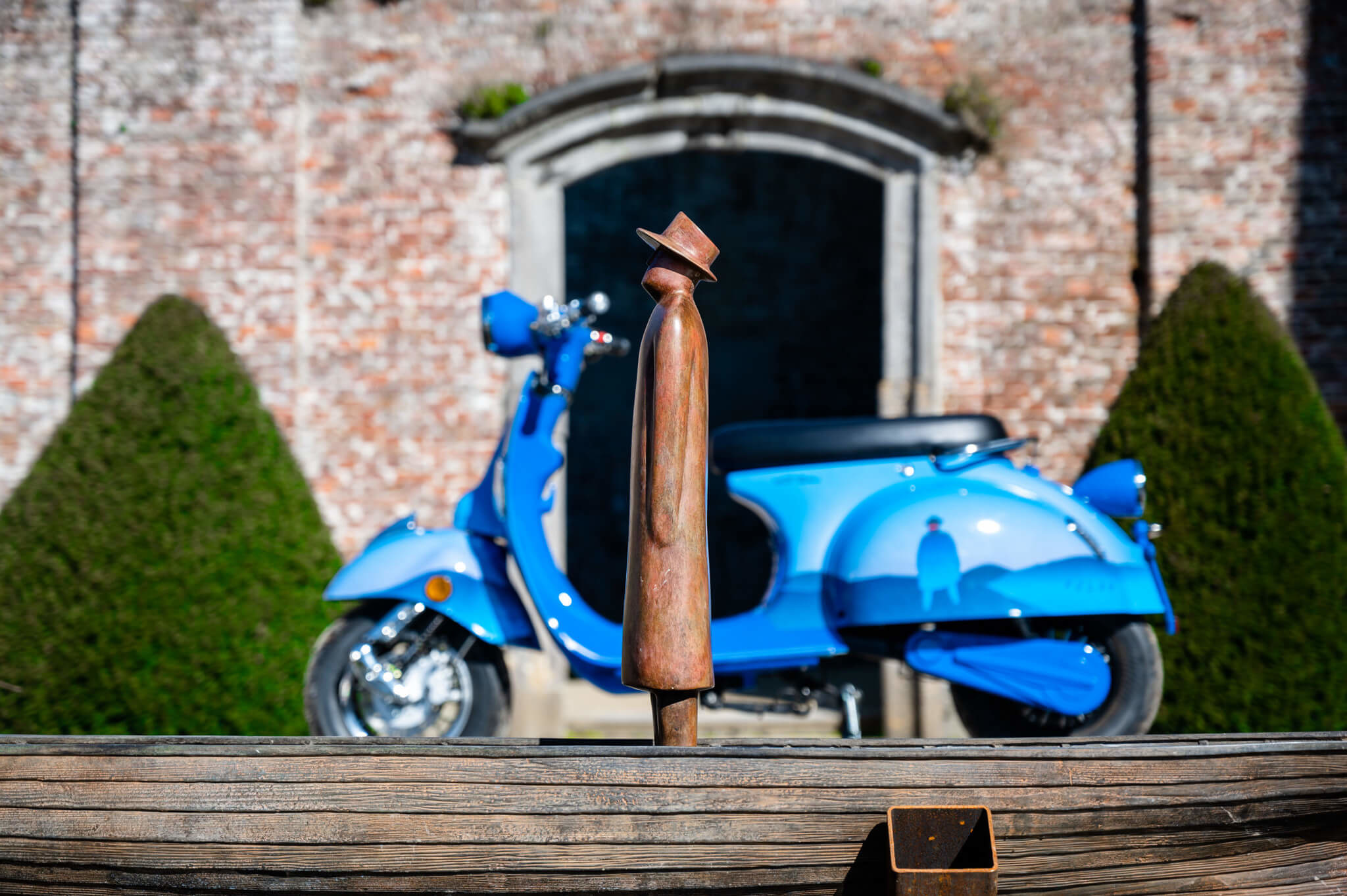 YDRA, in collaboration with the Fondation Folon, is launching an exclusive electric scooter, inspired by the work "La double vue" by the artist Jean-Michel Folon.
Jean-Michel Folon's iconic blue man in limited edition on the YDRA Retro
The journey is always more important than the goal (Folon)
Freedom and travel are two themes that recur in the work of the Brussels artist Jean-Michel Folon. Driving a YDRA Retro is also traveling and enjoying a feeling of freedom. And even more so when the scooter has the subtle gradations of blue colors that are so characteristic of Folon's artistic universe.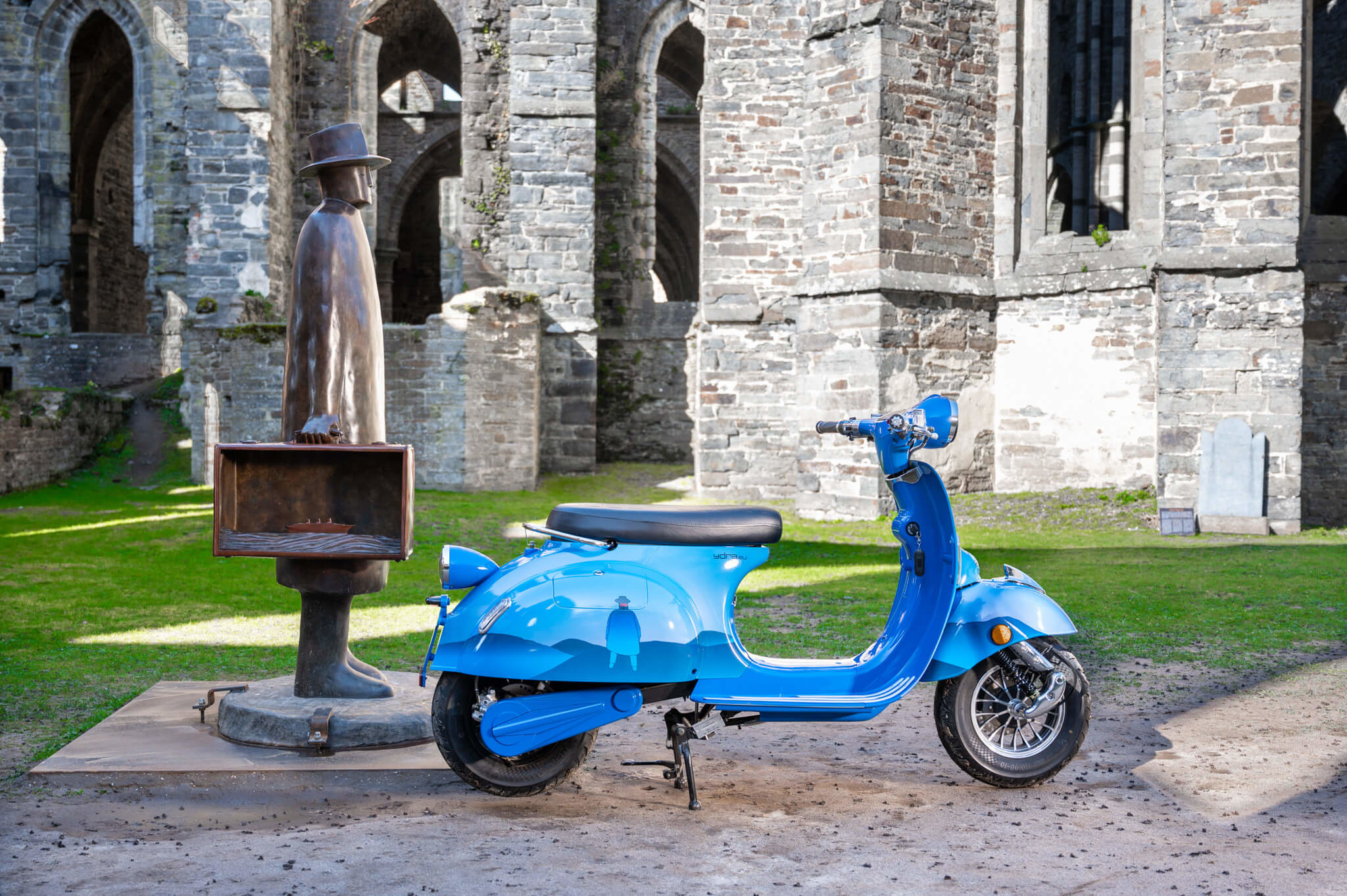 The inspiration: La double vue
The Folon scooters are inspired by the work "La double vue" from 1972. Within a metal structure in the shape of round glasses, it integrates two screen prints with a color gradient of intense blue. His character walks amid azure blue valleys. His facial features are limited to red glasses, the point of focus. The surprise is total. Dawn is breaking.
Folon often put on glasses. He had cases full of them: round and square glasses, thick and thin, multiple ophthalmic glasses to those oh-so-revered glasses by his favorite painter Giorgio Morandi. The glasses ... the double vision (la double vue), the clairvoyance of the artist. Glasses to look beyond reality, where the gaze hallucinates and invades new spheres.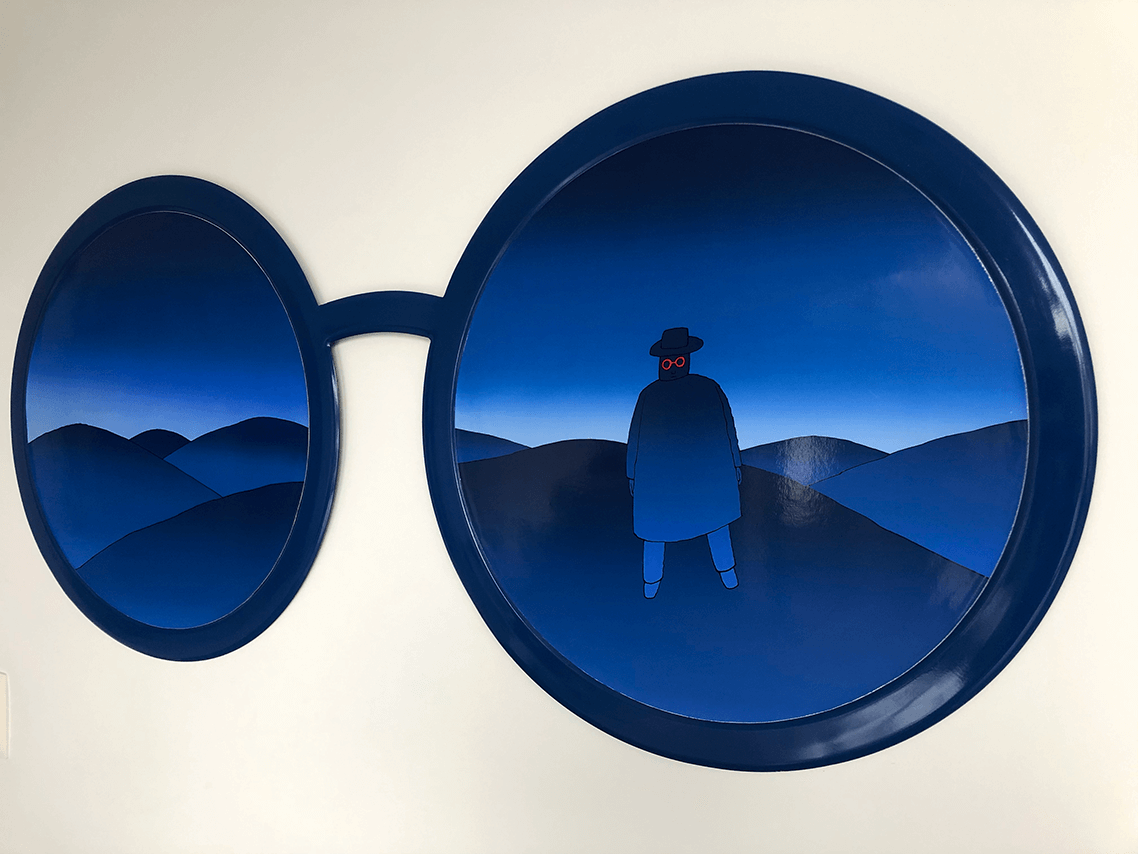 Limited series: only 50 copies
The scooter will be produced in collaboration with the Fondation Folon, only 50 numbered copies will be made available. The exclusive scooter costs EUR 4,895 (VAT included) and can be ordered through the local YDRA dealer or through this website (with home delivery) in the absence of a local reseller.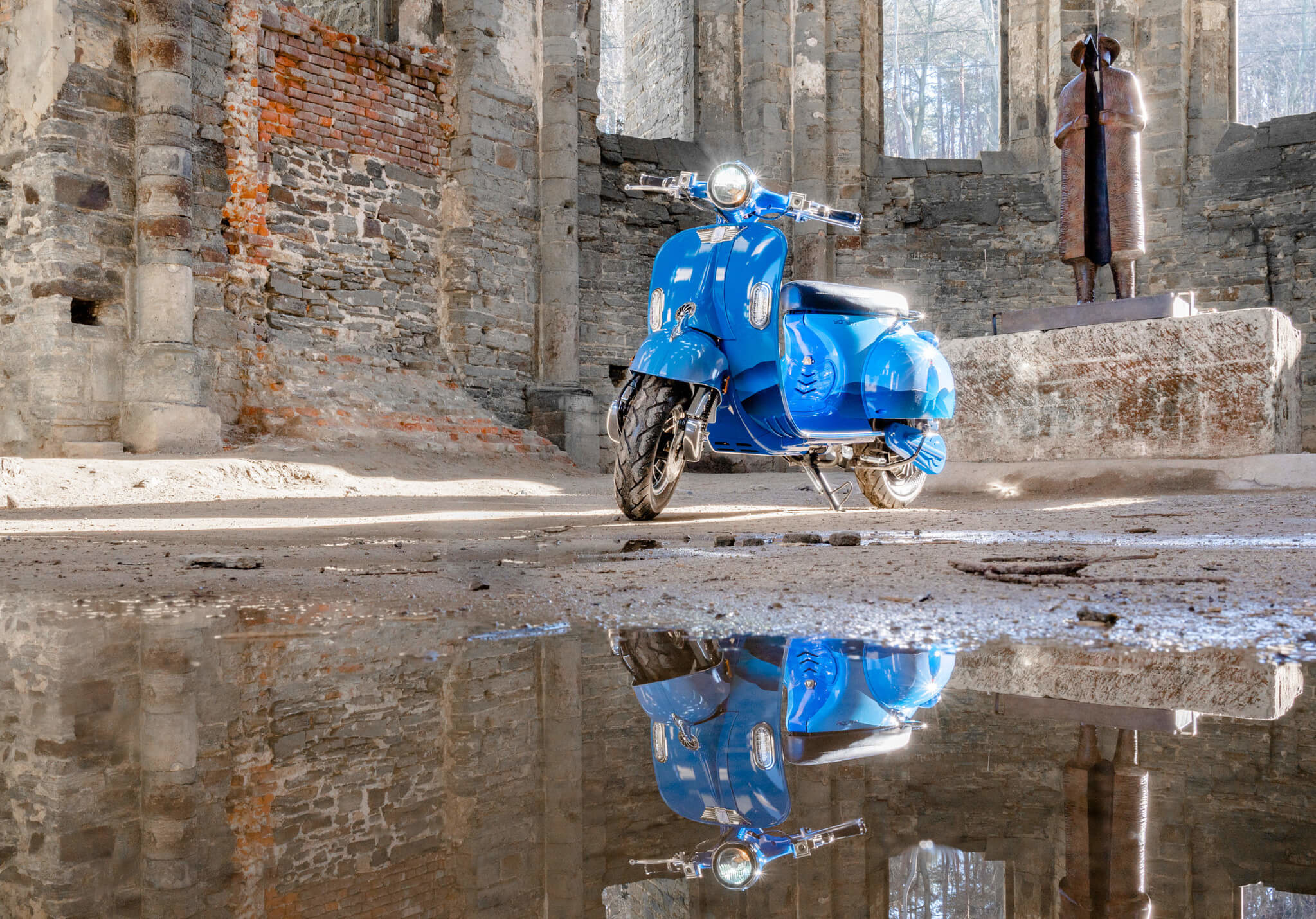 About Jean-Michel Folon
Jean-Michel Folon was born on March 1, 1934 in Brussels. Little interested in his schoolwork, Folon spends a lot of time drawing, which makes him choose architecture (Sint-Lucas) in secondary school. In 1954 he enrolled at La Cambre for industrial design. A few months later, in 1955, he hitchhiked to France. He settles just outside Paris, in Bougival. For five years he draws tirelessly and works as a press artist for Belgian (Pan, Moustique) and French magazines.
In 1960 Folon haphazardly sent some drawings to New York magazines, some of which - Horizon, Esquire, The New Yorker, etc. - immediately responded enthusiastically and published them. It was the beginning of his success. Galleries and museums around the world welcomed him with open arms — New York, Chicago, Milan, Venice, São Paulo, Buenos Aires, Barcelona, ​​Tokyo. Drawings, engravings, paintings, sculptures; his art flourishes in all its diversity. He illustrates important writers, including Kafka, H. G. Wells, Prévert, Vian, Borges, Bradbury ... In addition, he makes monumental murals, stained-glass windows, tapestries, theater and opera sets and sculptures. A master of conveying a message through art, he designed more than 500 posters. Fascinated by cinema, he played a series of roles alongside Rufus, Michel Piccoli, Patrick Dewaere, Marthe Keller, Miou-Miou and Marlène Jobert.
In 2000 he founded the Fondation Folon (www.fondationfolon.be) in La Hulpe, in the regional domain of Solvay, where the essence of his work can be seen in a place and in a landscape that are symbolic of his youth. He died on October 20, 2005 at the age of 71.
© Fondation Folon, ADAGP, 2021 - © Tanali Photography